In a letter sent to Human Rights Campaign (HRC) supporters, President of HRC, Chad Griffin expressed his disappointment and bewilderment of yesterday's election results naming Donald Trump the 45th President of the United States.
The letter reads:
Throughout our nation's history, we've faced devastating setbacks in our pursuit of a more perfect union. But even in the darkest of moments, Americans have summoned the courage and persistence to fight on. The results of tonight's presidential election require us to meet tomorrow with the same resolve and determination.
This is a crucial moment for our nation and for the LGBTQ movement. The election of a man who stands opposed to our most fundamental values has left us all stunned. There will be time to analyze the results of this election, but we cannot afford to dwell. We must meet these challenges head on.
Over the last 18 months, Donald Trump and Mike Pence have intentionally sowed fear and division for cynical political purposes. They now face a decision about whether they will also govern that way. We hope, for the sake of our nation and our diverse community – which includes women, people of color, those with disabilities, immigrants, and people of all faiths and traditions – they will choose a different path.
For our part, HRC will continue our fight for equality and justice for all with greater urgency and determination than ever before. We must. Lives literally depend on it.
Despite the outcome of this presidential race, we know that the tide has irreversibly turned in favor of LGBTQ equality. Today, we draw strength from the vast majority of Americans who believe that our lives and rights are worth fighting for. Thanks to you and your tireless work, we deployed the largest get out the vote effort in our organization's history. In North Carolina, it appears we have defeated the hateful Governor Pat McCrory and helped elect Roy Cooper to repeal HB2. We were proud to support Hillary Clinton, and she made history as the most pro-equality candidate to ever run for president of the United States.
The defeats we have suffered tonight demonstrate that our future victories will require us to dig deeper and work harder to continue bending the moral arc of the universe toward justice and equality. We must fight to protect our progress, and to limit the damage that Donald Trump has promised.
To every LGBTQ person across this nation feeling stunned and disheartened, and questioning if they have a place in our country today, I say this: You do. Don't ever let anybody tell you otherwise. Be bold, be strong, and continue to stand up for the principles that have always made America great.
At a time like this, we don't slow down. We double down. Tomorrow, HRC will set to work once again, undeterred and focused on our mission to realize a world in which every single LGBTQ person is safe and equal and valued.
In solidarity,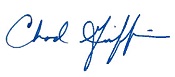 Chad Griffin
President